Meet the talents currently reshaping Australian culture, from stage to gallery to turntable. Remember these names.

Harper's BAZAAR Australia, June/July 2013.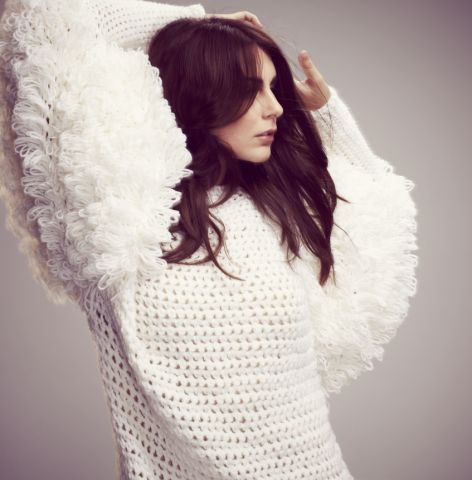 Owl Eyes, Singer/Songwriter
The new darling of pop, a.k.a. 22-year-old Brooke Addamo, is a Melbourne chanteuse with creamy vocals and a sophisticated synth-pop sound. Addamo has been singing since she was 12, after her parents enrolled her in lessons to combat a growing shyness. She then developed a love for the performing arts, signing up for musicals and writing music throughout her teens. "I always knew I wanted to do this," she says. "I'm lucky my parents were supportive, so that pushed me to say, 'I can do this as a career'." After the release of three EPs to critical acclaim, Addamo's debut album, Nightswim, is out now. "I'm not going to shy away from the f act I make pop music," she says. "I just hope that what I do is a little bit more intelligent than some of the stuff out there."
Music muses: Ella Fitzgerald, Sarah Blasko and Clare Bowditch
Style: "I love Australian labels: Romance Was Born, Dion Lee, Emma Mulholland and Natasha Fagg. I like to support up-and-coming local designers."
Listening to: Metronomy, Phoenix and Jai Paul.



Nervo, DJs/Producers
Melbourne-born twins and former models Miriam and Olivia Nervo make up what is arguably the hottest DJ duo in the world right now. They co-wrote the euphoric, Grammy Award-winning dance anthem When Love Takes Over by David Guetta and Kelly Rowland, have been snapped up as faces of CoverGirl, were picked to tour with Britney Spears and Nicki Minaj, and have penned hits for Kylie Minogue, Ke$ha and Pussycat Dolls. Finally, after years of behind-the-scenes ghostwriting, the pair are working on their debut record.
Top three party tracks:
Showtek & Justin Prime: Cannonball (Original Mix)
Nervo & Hook N Sling: Reason (Original Mix)
Nari & Milani vs. Otto Knows vs. One Republic: Million Atoms to Apologize (Hardwell vs. Thomas Gold Edit)
Inspirations: Basement Jaxx, Fat Boy Slim, The Prodigy, Jamie Jones
Beauty must-haves: CoverGirl Outlast Stay Brilliant Nail Gloss; La Prairie Skin Caviar Luxe Cream; coconut water
Best party city: Ibiza



The Apairy, Film Collective
Fantasy, mystery and beauty — not words normally associated with documentary filmmaking. That is unless you live within the cool world of Gavin Youngs and Lily Coates, a.k.a. The Apiary. The Melbourne-based duo has been producing short films, documentaries and stage projections for The Australian Ballet for more than three years — understandably, as they have a rare ability to go behind the scenes while keeping intact the enigmatic allure of ballet. Following their success with various dance and fashion films, as well as commissions from SBS's subscription channel Studio and Arts Victoria, Youngs says they're increasingly being approached by major companies and given complete creative control to produce super-stylised work that evokes a brand's essence, minus any logos or corporate ownership. "It does seem that companies are moving away from direct branding to create more of a 'feeling'," he says. "Feeling" is another word for The Apiary's signature mix of emotion, narrative and fairy dust. Who wouldn't want to be part of their world?
The Apiary's new film, Ballet Men, will premiere on The Australian Ballet's YouTube channel,
youtube.com/TheAustralianBallet, this month; theapiary.com.au.
Inspirational places: MONA; Théâtre des Champs-Elysées, Paris; cross-country trains
Online addictions: africasacountry.com; butdoesitfloat.com
Favourite filmmakers: Michael Haneke, Alejandro Jodorowsky, Louis Malle



Sam Strong, Director
The newly appointed associate artistic director of the Melbourne Theatre Company is a lesson in following passions. Up until only a few years ago, Strong was a lawyer-slash-dramaturge about to become a bar-at-law before his longtime love of theatre won out. Following work with independent companies including Chapel off Chapel, Melbourne's La Mama, Red Stitch and the Griffin Theatre, Strong has joined the MTC during an exciting time — the 2013 season is perhaps its most anticipated to date. This month, Strong directs David Wenham in what he refers to as his "dream project", Arthur Miller's The Crucible. "It's one of the most powerful experiences you can have at the theatre, and unleashing that power on an audience, with some of Australia's finest actors, is a real privilege," he says of the project.
Strong has built a reputation for favouring intense emotion and audience-moving themes and says he only intends to take his work ever higher, rattling off a near-future wish list that includes tackling iconic plays such as Chekhov's The Seagull and Samuel Beckett's Endgame, as well as trying his hand at opera and feature films. The future of Australian theatre? He is, undeniably.
The Crucible is on June 22–August 3, Southbank Theatre, mtc.com.au.
Biggest inspiration: "I'm most inspired by listening to and playing music. Whenever I'm working on a show I will make a deliberately eclectic playlist."
Strong's The Crucible playlist:
1."The Girl with the Dragon Tattoo soundtrack by Trent Reznor and Atticus Ross. Especially the track Later Into the Night, for its gloom and ominous mood."
2. "The Chaconne from the Violin Partita
in D Minor, because it's Bach being both precise and passionate."
3. "The soundtrack to Ulysses' Gaze by Eleni Karaindrou, especially Ulysses' Theme for its haunting effect with minimal elements."
4. "We Are Never Ever Getting Back Together by Taylor Swift, because it's teenage like the girls in The Crucible — and it's catchy."
5. "Cross Road Blues by Robert Johnson, for another version of pacts with the devil and its rustic simplicity."