VOGUE LIVING, July, 2018 (LINK)

Discreetly hidden in the heart of Rome, this boutique luxury hotel is an intimate, tranquil sanctuary known only to a few.

With an average of seven to 10 million visitors every year, Rome is one of the busiest cities for tourism in Europe. Something that that anyone who has bustled their way to the Trevi Fountain to toss in three coins, lined up for hours at the Vatican, forgotten to pre-book tickets at the Galleria Borghese or casually sought a meal (only to be bowled over with maî·tre d waving menus and promising the best pizza or pasta in town, will know to be a heavy truth. And so, Rome is home to many a famous hotel with ostentatious entrances, designer names on the door and bustling foyers made to be seen in.

Villa Spalletti Trivelli, situated just a seven minute stroll to the Trevi Fountain, Via del Corso and Via Condotti shopping districts and 15 minutes to the Pantheon, on the other hand, possesses none of those things.

Upon entering the 119-year-old mansion (young by Rome's standards but still old enough to impress) you'll be greeted warmly by the villa staff, a double Roman staircase and a floor adorned in the most beautiful ancient mosaic of primary-coloured marble. Of course, that is, once you find the place –the outside bears no branding, no logos, no public entrance and not a slither of a giveaway that you're about to enter what might be the most tranquil hotel in Rome - just heavy wooden doors with a highly discreet buzzer. So don't be surprised if you exhale a long deep sigh of relief to escape the chaos of Rome, you're not the first to do so.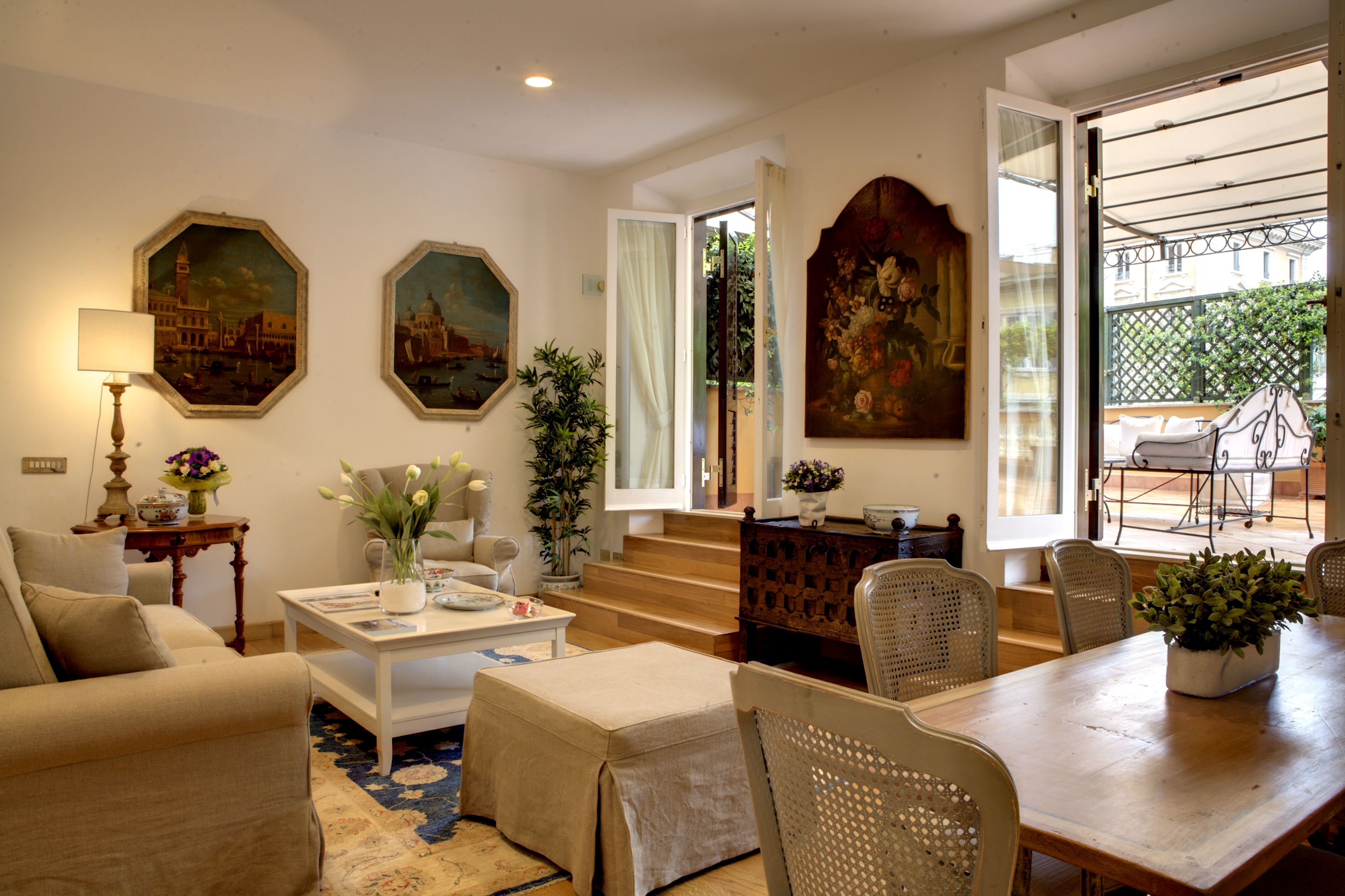 "This is our family home," explains Andrea Spaletti Travelli, director of sales and marketing. "My great, great grandmother [Gabriella Rasponi Spalletti] bought the land in 1896; as her husband, Count Spaletti-Travelli, was elected into the Senate." The house is opposite what used to be the Quirinal Palace (now the Palazzo del Quirinale, the official presidential residence), which was intentional as the Spalletti Travelli matriarch (a feminist, President of the National Council of Italian Women and fierce supporter of the suffrage movement) was also the Lady-in-Waiting to the Queen Elena of Italy. "This house became the family centre for everyone travelling to Rome – it was born for hospitality. Initially for family, but now for international travellers."




Now part of Small Luxury Hotels, Spaletti Travelli has gone to great lengths to ensure the 15-room villa's homely hospitality echoes throughout the property– from the exceptionally well-stocked, self-serve bar in the hotel's drawing room and rooftop lounge areas (the latter complete with a spa), to the tranquil library and plush garden, and through to the charming and highly personal family photographs, heirlooms, sculptural busts and artwork that adorn the property - including a Rubens and two 15th Century Flemish tapestries, formally owned and commissioned by King Charles the Fifth of France (two of twelve that are divided between Spaletti Travelli's cousins, the Villa and New York Metropolitan Museum of Art).




The owner also reveals that his housekeeping and service staff are actually trained in the art of running a home, not a large hotel – a detail that is very important to the villa. "It takes our staff 55 minutes for two of them to clean a room. That's the level of detail we want here, as if they were cleaning their own home, not just a fifteen-minute clean in someone's hotel room," insists Spaletti Travelli. "It makes a difference, even if you're not a travel professional or not used to it – you'll soon notice."

And for those wanting to seek a heightened respite, after hours trekking the stony, ancient streets of the bustling capital, downstairs, in the former servant quarters, a Turkish bath, sauna and a day spa with a number of treatments awaits. And if you ask nicely, Mr Spaletti Travelli and his staff might even set up a tasting at his award-winning, private organic winery and olive farm, near Tuscany.



The rooms themselves are sumptuous and magnificent, with heavy wooden doors and styling that acts a reminder of the aristocratic history that has been breathed between the walls. Ranging from romantic rooms to magnificent suites and regal garden apartments, each room has large windows that either overlook the leafy backstreets of the quiet, presidential district, gardens or the city, bearing enormous mahogany shutters that ache to be swung open.

In addition, Italian travertine marble bathrooms with a separate bath and shower and L'Occitane toiletries; a smart handheld map at your disposal to take around the city (to save you on data), a complimentary minibar (in case the self-serve bars on the roof and ground floor are too far), excellent Wi-Fi and a huge, luxurious bed that Roman dreams are made of.

"People who look for us don't look for the same thing that large hotels provide," says Spaletti Travelli. "If someone wants to stay here, they want to be away from the chaos, the noise. When it comes to luxury, everyone is different - to some people, those big five-star hotels are luxury – but to me, that would be a living nightmare!", he laughs. "You come here not to be seen. You can take one of our drawing rooms, or sit in the library and you will be the only person there. It's exclusivity and privacy, without giving up on a central location in Rome. That is very important. We are in the very heart of Rome."

If you're seeking serenity in a city that is notoriously chaotic, this charming villa ensures calm and possesses a heightened sense of intimacy and Italian aristocratic history that is rarely found, though often manufactured, giving the phrase "home-away-from-home" an entirely new meaning.

Via Piacenza, 4, Rome, Italy
Visit: villaspalletti.it