A sucker for anything kitsch, Buro Culturemaker and Elvis tragic Noelle Faulkner shares her guide to doing The King's hometown, just like he did

Buro 24/7, March 2017

We have a lot to thank Memphis for. In music alone (and I'm not even touching on its civil rights history, Gus' Fried Chicken, barbecue legacy OR the marching ducks of the Peabody Hotel), the city gave us rock & roll, rhythm & blues and funk. AKA "the Memphis Sound". Songs like "Soul Man", "Green Onions", "Hold On, I'm Comin'", "Sittin' On The Dock Of The Bay.", "Theme from Shaft" and of course "Heartbreak Hotel" by a little known singer named Elvis Presley, to name a few.




The King called Memphis his home from age 13, and despite discouragement from his high school music teacher and a bout of performance anxiety, Presley had dreams of becoming a musician. He would frequent the city's buzzy Beale St. and gospel group performances, befriended musicians like B.B.King and was often found next to a jukebox or deep in a record store dig. To cut a long story short, Elvis got his start after he walked into the now-legendary Sun Studios to cut a record (apparently a gift for his mother) and, well, the rest is legend.

Elvis superfans are a curious bunch. They really don't so things in halves; it's all or nothing. You'll know this if you've ever been to the Parkes Elvis Festival (held in the NSW country every summer), and if you've ever found yourself in a conversation about how he never died or Googled conspiracy theories, and you'll definitely know this if you've ever visited Graceland and simply people-watched.

I'm by no means an Elvis superfan, but I have done all of the above (and below). Why? He is one of the most influential artists of our time, as a musician, actor and sex symbol - but more than that, is his myth.




Which is your favourite Elvis? There's Bedazzled Elvis, Hawaiian Elvis, Military Elvis, Car collector Elvis, Biker Elvis, Clean Cut Elvis, Vegas Elvis, Fat Elvis, Young Elvis and Bad Boy Elvis. And that's just the surface Elvises (visit Graceland and you'll see all of these plus Interior Decorator Elvis). Bar Prince, the immense myth that surrounds The King has yet to be seen in any other celebrity - which is what makes him, Graceland and the superfans so fascinating. Superfan or not,
when visiting his hometown of Memphis, Tennessee, everyone should add a few of these Presley hot spots to their itinerary.

Go to Elvis Week




If you're lucky enough to visit Memphis in early August, you should aim to arrive in time for Elvis Week: a town-wide celebration of The King that takes place during the week of his death.
Elvis week is when the infamous Ultimate Elvis Tribute Artist Contest takes place, which sees hundreds of ETAs from around the globe compete for the bedazzled title. It's fun and often kinda hilarious, but you'll soon see how hard some of these guys have worked on the moves.




Three things I've learned from watching Elvis Tribute Artists (ETAs):

1. Don't call them "impersonators".

2. It's a fine line between sounding like Elvis and sounding like Cher covering an Elvis song.

3. The King recorded 784 songs, yet you will only hear eight of them: 'Blue Suede Shoes', 'Heartbreak Hotel', 'Hound Dog', 'Jailhouse Rock', 'Suspicious Minds', 'Don't Be Cruel', 'Can't Help Falling in Love' and 'All Shook Up'. The latter, and also anything with a call and response hook, truly lends itself to audience participation.



Image credit: I Love Memphis Blog

On the night of Elvis' death (August 15) a beautiful candlelit vigil is held at his Graceland grave. Fans line the streets with homemade shrines to their king and the mood is sombre. 2017 marks the 40th Anniversary of his passing, so this year's vigil promises to be large. But if you miss it, the event is also streamed live on Graceland website. In addition, there are hundreds of events going on during this week, from dance parties to fan meet-ups, auctions and talks. Be warned: After a week of Elvis-only, the first four bars of "Jailhouse Rock" may start to trigger facial twitches. TRUST ME.

Elvis Week, August 11-19, Memphis, graceland.com/elvisweek/schedule/


Visit Graceland




After attending Elvis Week, the 2nd most Elvis-y thing you can do in Memphis is visit Graceland. There are degrees of tickets you can buy, depending on how deep down the Presley rabbit hole you want to go - from a tour of the house (of which the interior was mostly styled by Elvis himself and garishly fantastic, from the themed rooms to the skittle-like colour palette) and the grounds (including Presley's resting place in the garden) to a tour of his private jets, which he famously took on midnight runs across the country for burgers; epic car collection and weird museum of assorted objects.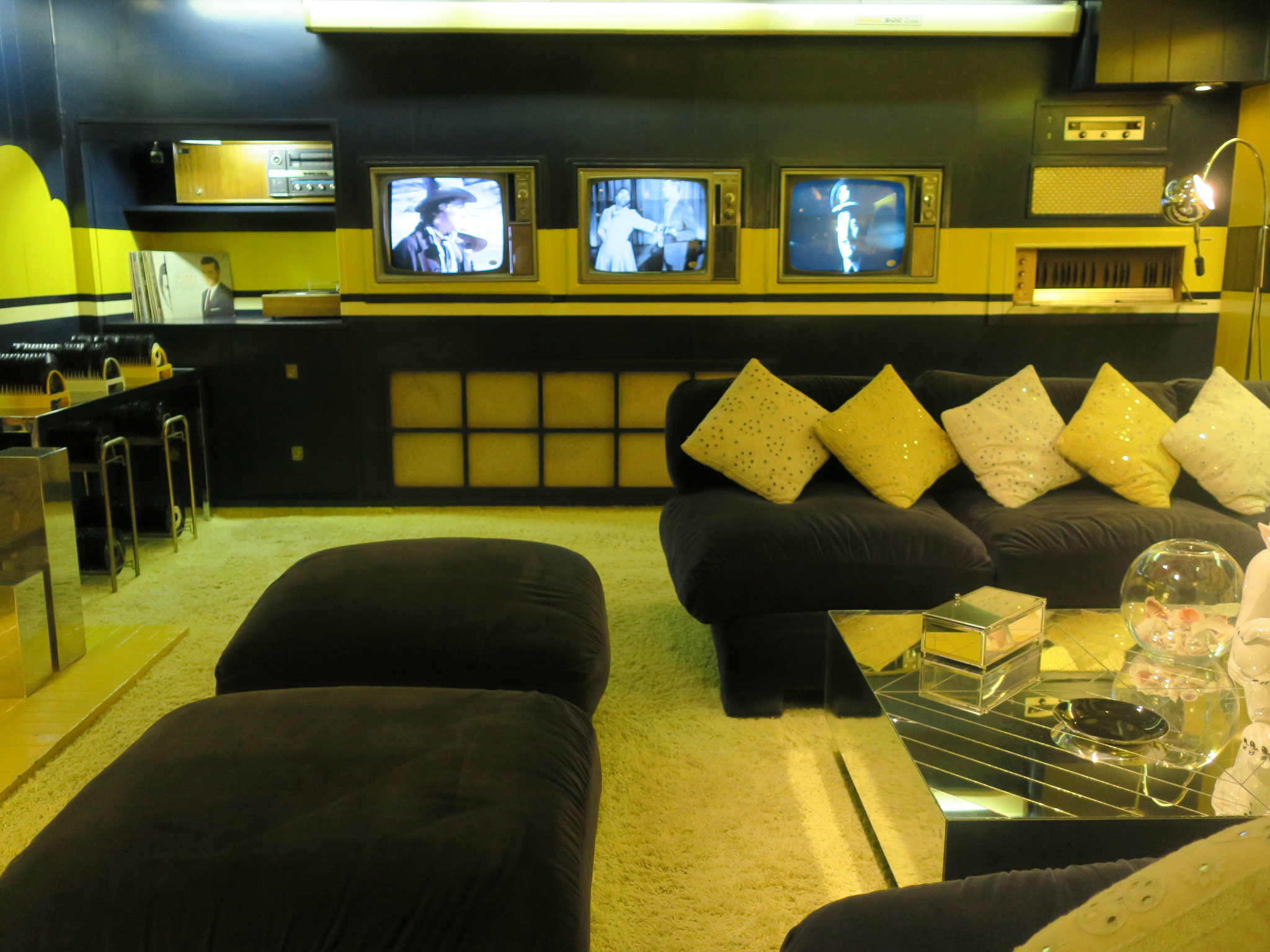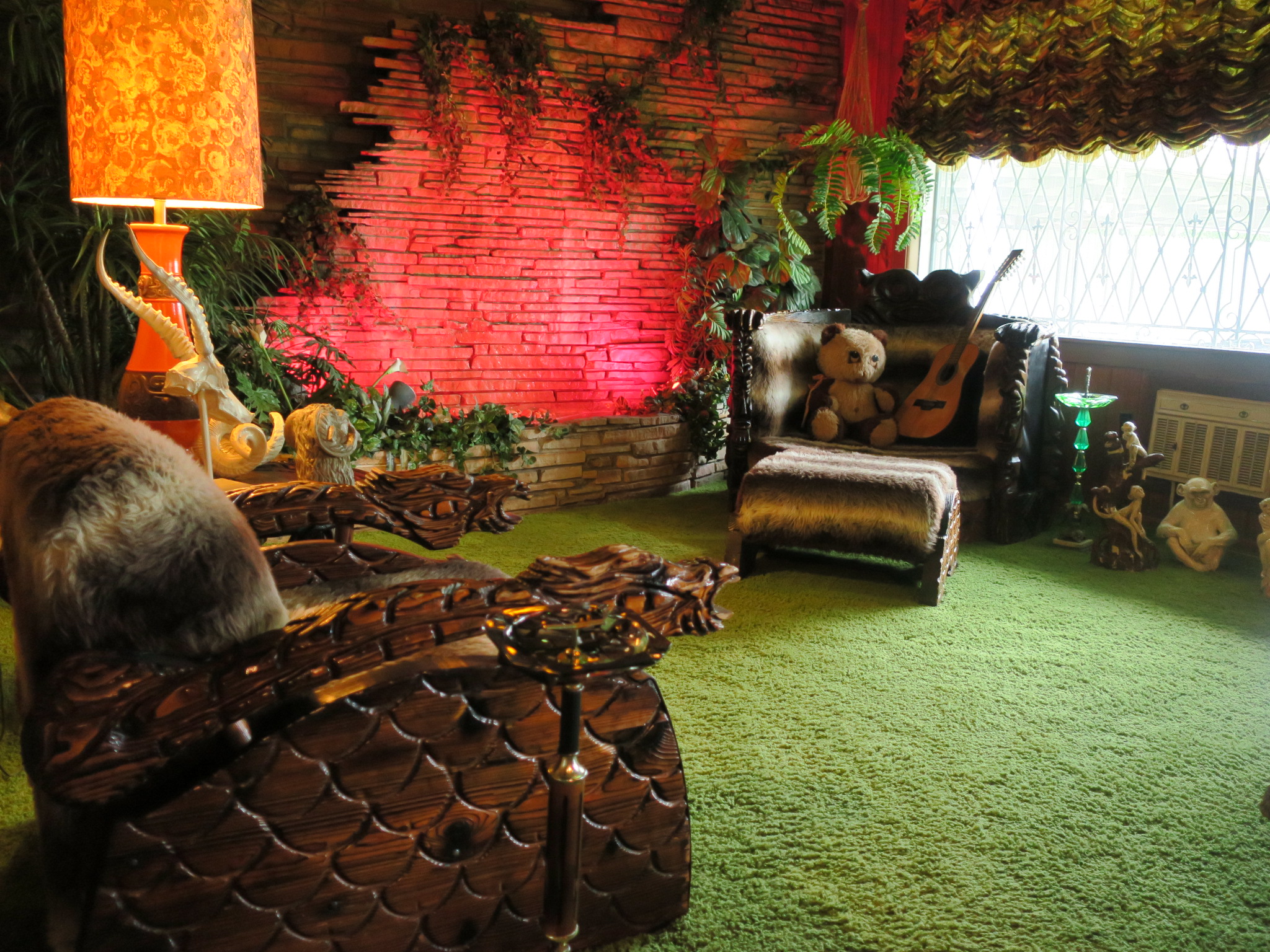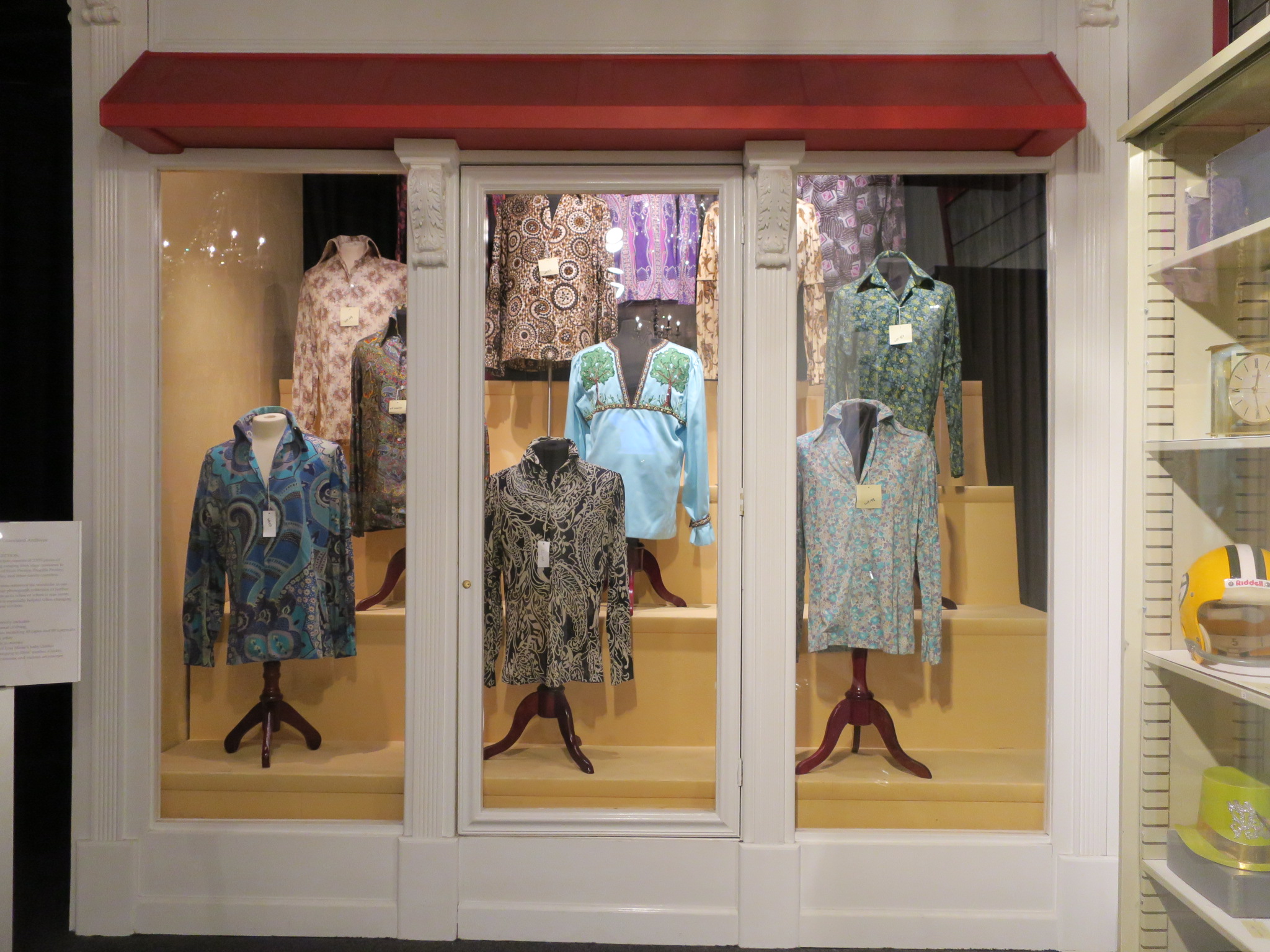 Image credit: Noelle Faulkner

To be honest, it's a pretty morbid experience and there is a gift shop at every exit reminding you of the currency of dead celebrity. Still, it's worth it just for the fascinating look into how the King took care of business.



Image credit: The Guesthouse at Graceland

The infamous Heartbreak Hotel has now closed, but in its place is The Guest House at Graceland, which is a hardly a "guest house" and more like a huge resort in the heart of Graceland. The rooms are brightly coloured and full of texture, as per the style of The King, and the resort has a coolly-designed diner (though I'd save your pennies for Memphis many BBQs, Gus' Fried Chicken or a cheeseburger at The Arcade) and an in-house theatre (visit Beale St or, Layfette's Music Room instead). I'll spare you the jokes about having a Blue Hawaii at the bar..

Graceland, 3600 Elvis Presley Blvd, Memphis, TN 38116,
guesthousegraceland.com/accommodations-overview/


Dine at the King's Booth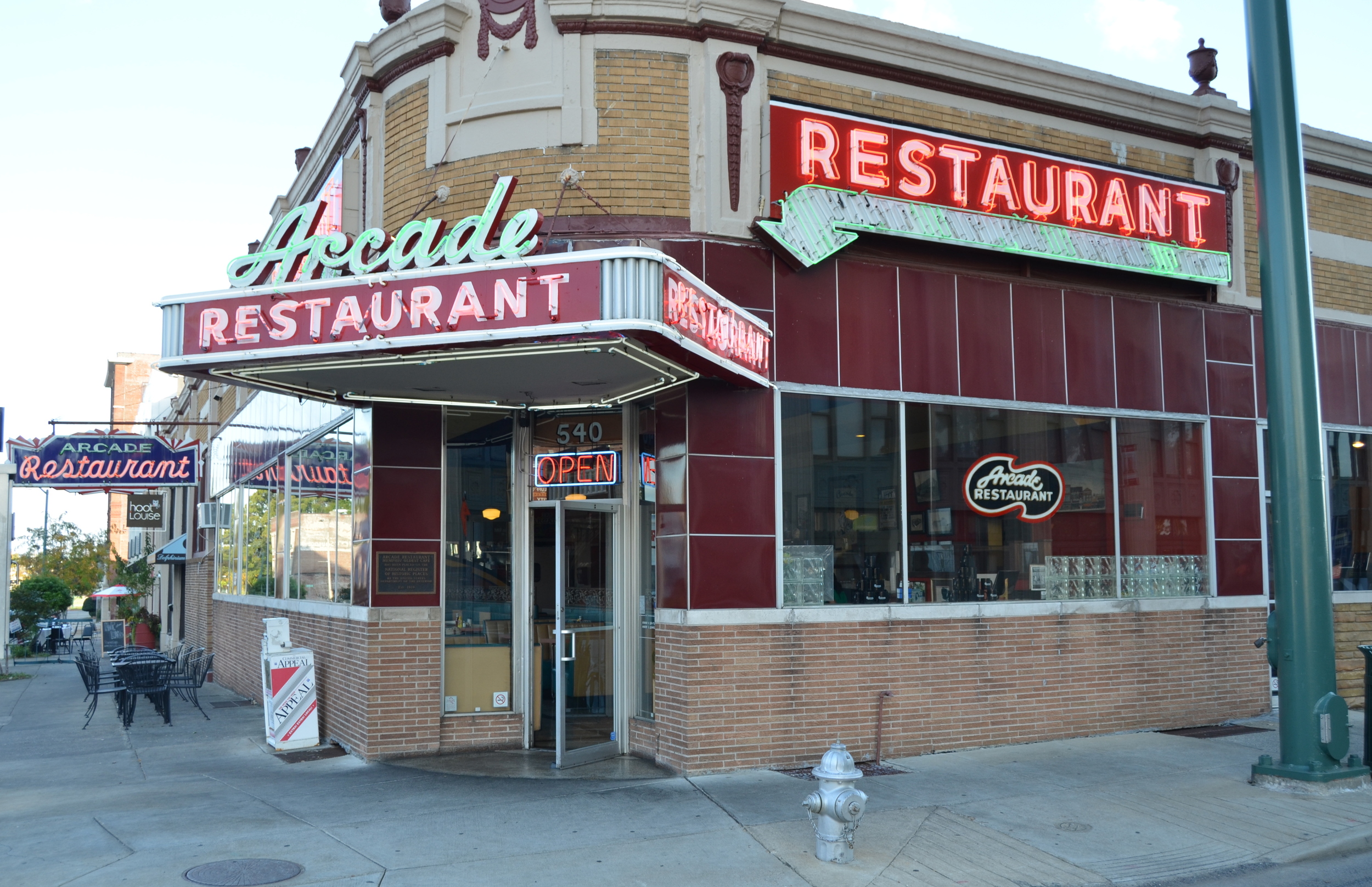 Despite The Arcade Restaurant being the oldest café in Memphis and featured in films like Mystery Train, Great Balls of Fire, Elizabethtown, 21 Grams, The Firm and Walk The Line, it is arguably best-known for its "Elvis Booth", the table where The King liked to dine.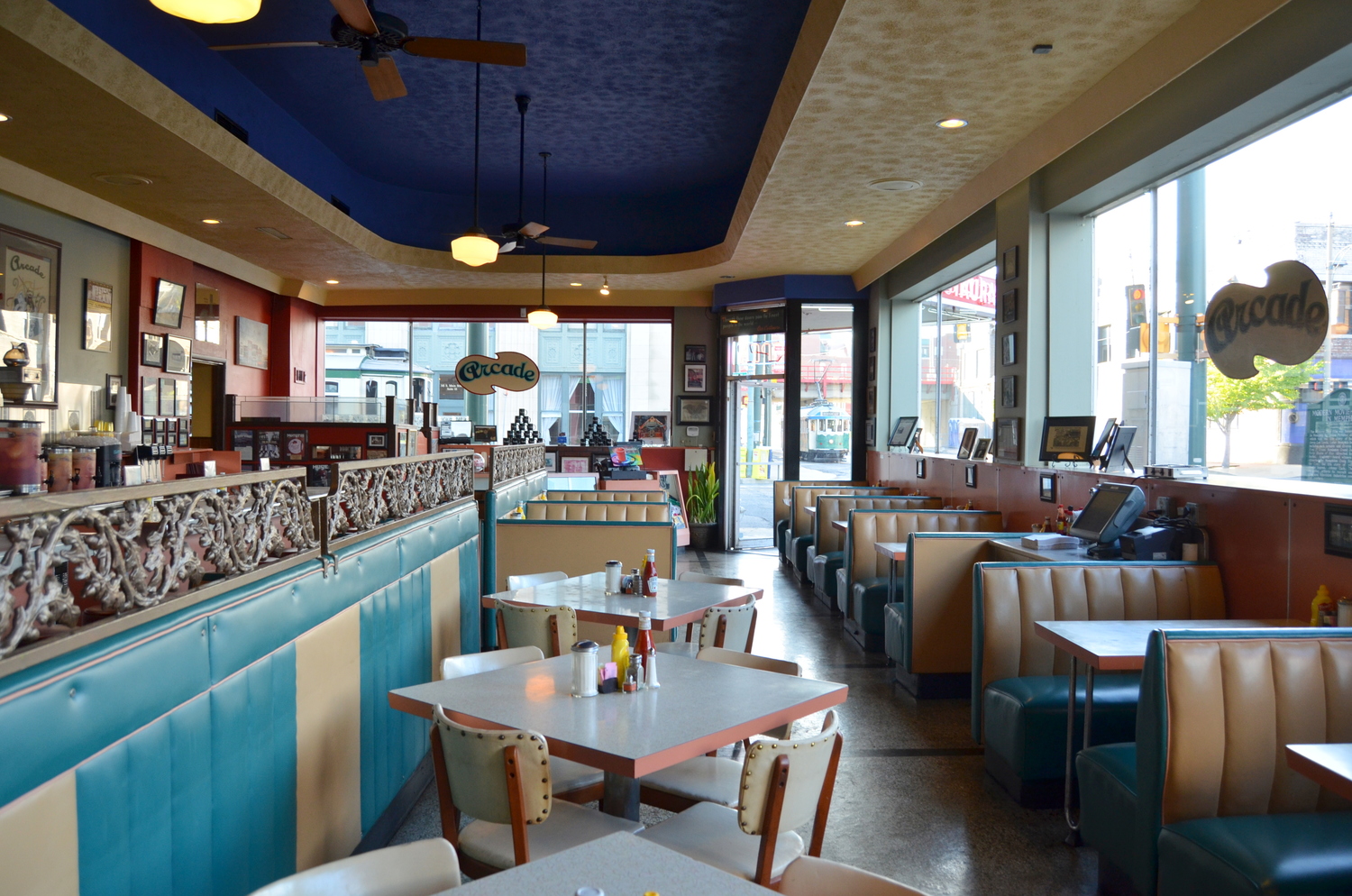 Run and owned by the same family since 1919, The Arcade, in all its pastel and laminate glory, has been rocking its achingly cool '50s diner interior and rad neon signage since it was new, with a menu that has also been relatively unchanged in the last few decades (try Elvis go-tos: the PBB&B or the Bacon Cheeseburger).

The Arcade Restaurant, 540 S Main St, Memphis, TN, arcaderestaurant.com

Stay the night in Elvis's (haunted) apartment




If your spirit Elvis is Young Elvis, consider setting up camp or booking a day tour at Unit 328, Lauderdale Court, the two-bedroom apartment and ex-public housing unit where his holiness grew up.




Though the block has since been renovated and turned into condos, the King's humble teenage abode still has all its retroness intact, just as the family left it. Sneak a peek at Mamma Presley's grocery notes, little Elvis' bedroom (complete with comic book collection, toy soldiers and guitar) and treasured Presley family portraits. The caretakers say the apartment is haunted by a mischievous spirit, so book a night if you dare.

252 North Lauderdale Street, Memphis, TN, facebook.com/LauderdaleCourts

Make a musical pilgrimage



Image credit: Noelle Faulkner

As the home of rock & roll, rhythm & blues and early funk (as mentioned: "the Memphis Sound"), this Tennessee city birthed some of the most important music in American history, far beyond our beloved cape-enthusiast.



Image credit: Noelle Faulkner

In the '50s and '60s, during a time when race segregation and tension was high, labels like Sun Studios, Stax Records and Hi Records produced music by musicians of all race, gender and colour, working together. Otis Redding, Booker T. and the MGs, Isaac Hayes, Al Green, Aretha Franklin, B.B. King, Jean Knight, Rufus Thomas, Sam & Dave, Howling Wolf, Johnny Cash, Roy Orbison, Charlie Rich, Jerry Lee Lewis and, yes, Elvis Presley are just some of the icons we have Memphis to thank for. Visiting the birthplace of music as we know it, and paying your respects to the legends it is not optional, it's our mortal duty.




Sun Studio, 706 Union Ave, Downtown Memphis, TN, sunstudio.com. A free shuttle runs between Sun Studio, the Rock'n'Soul Museum and Graceland.

Stax Museum of American Soul Music, 926 E McLemore Ave, Memphis, TN, staxmuseum.com

The Rock 'n' Soul Museum, 191 Beale St, Memphis, TN, memphisrocknsoul.org

Memphis Music Hall of Fame, 126 Beale Street, Memphis, TN, memphismusichalloffame.com

Blues Hall of Fame, 421 S Main St, Memphis, TN, blues.org/hall-of-fame-museum

Eat THE Sandwich



Photo credit: Biblore

Elvis, in his penchant for rich foods, had a mouth-wateringly epic sandwich recipe, AKA the PBB&B. Essentially a peanut butter, banana and bacon toastie, it is salty, sweet and hard to forget (and it makes a great hangover cure, FYI). The story goes that Elvis would caramelise his bananas first and then deep fry the whole thing in bacon fat - no judgement here if you so desire.


Ingredients:

Bacon
Smooth peanut butter
4 slices of bread
1 banana, peeled and sliced
4 tablespoons of butter (or you can just use the bacon fat instead)

Instructions:

1. Fry bacon until crispy in a pan and either drain the grease out or leave in pan.
2. Spread peanut butter over two slices of bread.
3. Lay your banana slices and cooked bacon over the peanut butter.
4. Cover with remaining bread slices. Toast in a jaffle press or spread outsides of sandwiches with butter or place in bacon oil, and cook in a skillet on medium heat until golden brown.

Visit the Elvis Shrine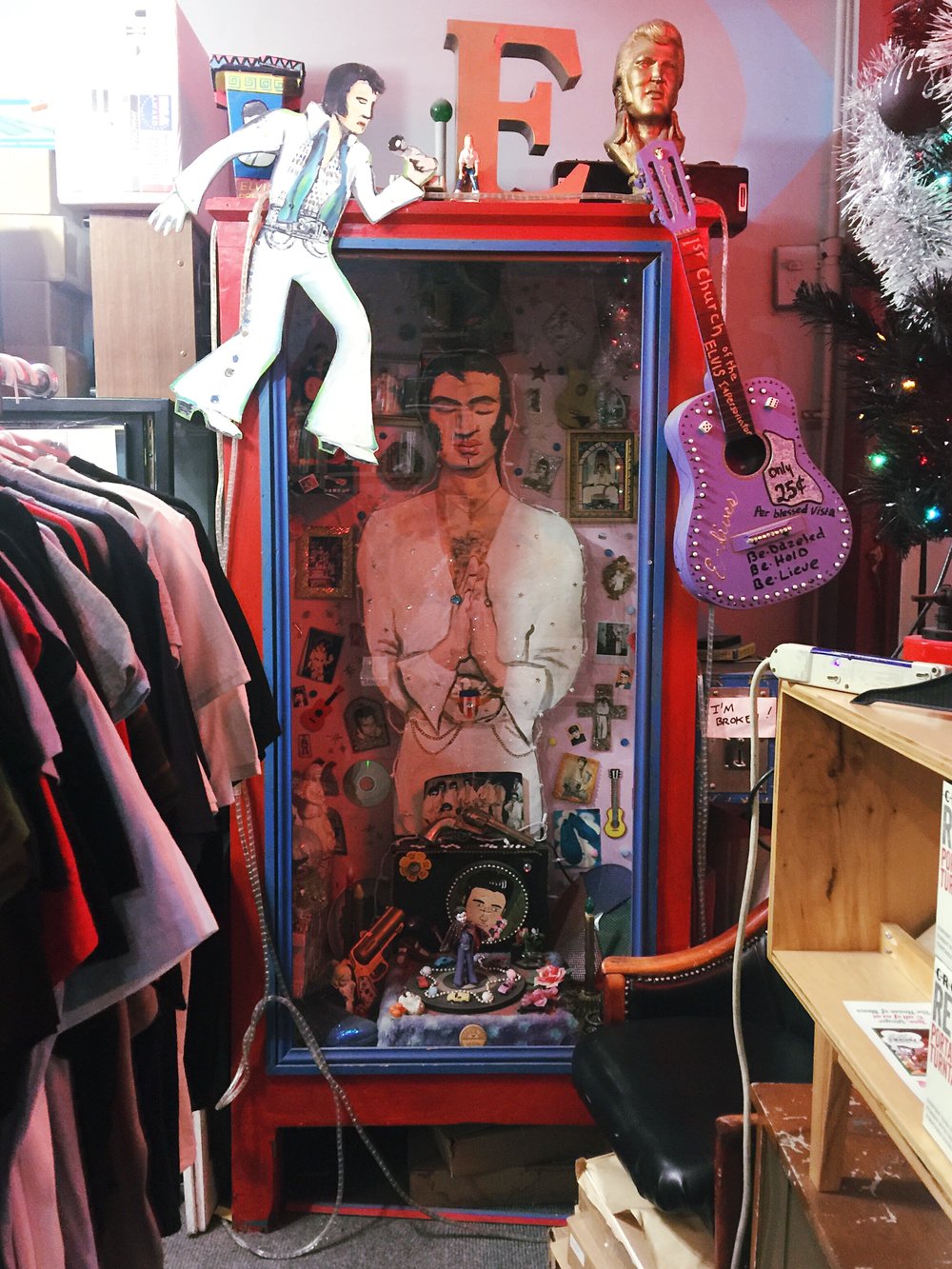 Record store, indie label and founder of the epic music festival, Goner Fest, Goner Records is one of Memphis' best vinyl stops -Ty Segall, King Louie, Aussies Cosmic Psychos and NZ's Toy Love are signed to Goner and the label put out the first releases by Jay Reatard, King Khan & BBQ Show and Eddy Current Suppression Ring.

In addition to this, inside the store in the rad Cooper Young district, lives an adorable hand-made coin-activated "Elvis Impersonator Shrine", which twinkles and lights up like a Christmas tree with pictures of impersonators tribute artists playing Elvis covers. All that entertainment for just the price of a quarter. What a time to be alive.

Goner Records, 2152 Young ave, Memphis, TN 38104, goner-records.com

Dress like the King




Dig the King's threads? Make a trip to the legendary Lanksy Bros. store. This family-run business dressed Elvis (and Johnny Cash, Carl Perkins, Jerry Lee Lewis and more) from before he was a household name, right up to his death. Their bag is great quality, classic rock'n'roll-inspired threads, so expect to see wild printed dinner jackets, rockabilly shirting, leather jackets and, naturally, blue suede shoes.




Lanksy Bros., Inside the The Peabody Hotel Memphis, 149 Union Ave, Memphis, TN, lanskybros.com/

Or, visit our very own "Elvis Festival"



Image credit: Noelle Faulkner

Can't get there? Make your way to our very own baby boomer heaven and all-round good time the Parkes Elvis Festival, which takes place in the first week of January every year in Parkes, NSW. You too could meet your very own "Bollywood Elvis"
parkeselvisfestival.com.au/