A Vogue Living chat to the director of Designworks studio and one of the women behind MINI and BMW as we know it, Annette Baumeister.

Vogue, March 2019 (LINK)

With a career spanning more than 20 years at BMW, which includes a pivotal role as the Head of Colour and Trim Design and Design Quality at MINI, where she spearheaded one of the most fashionable reimaginings of a heritage brand in automotive in recent years, it might come as a surprise that textile and industrial designer Annette Baumeister never intended to work with cars. Instead, her career goal was to end up working with haute couture fabrics or high-end home furnishings.




Now, as the director of Designworks studio, a future-focused agency that is part of the BMW group, Münster, Germany-born Baumeister is responsible for all things forward-looking, ranging from automotive and industrial design to interactive design and beyond. Actually, when presented with the Designworks portfolio, it appears like she might just have one of the coolest and most creative jobs in the industry – as it features things from chic solar and electric charging station concepts to sleek bobsled design, yachts, first-class aeroplane cabin interior architecture and styling, user experience interfaces, futuristic cabins for hyper-mobility options and razor sharp concept designs usually reserved for science fiction movies.

Beyond this, Baumeister and her Designworks team are those futurist tastemakers who lead fashion and industrial trends from their very point of inception, including leading the way on creative strategy, storytelling and multidisciplinary market insights.

As a speaker at Vogue Living and BMW's Women of Excellence speaker series in Melbourne and the guest of honour at a small luncheon hosted by BMW in Sydney recently, we sat down with Munich-based Baumeister to talk about how she went from a student with her eye on haute couture to be a leader in automotive design.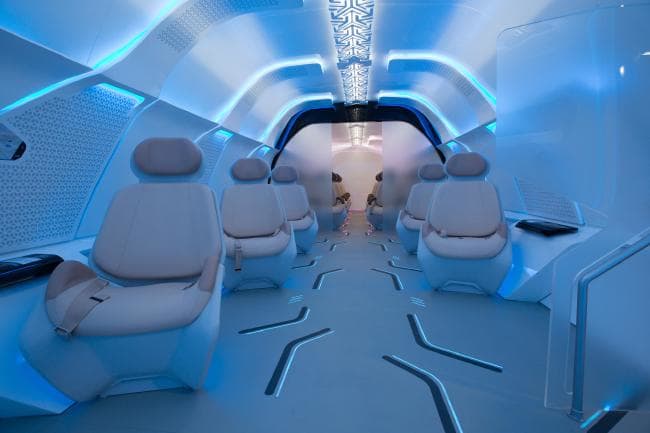 Image: Hyperloop One, Dubai by Designworks

How did you end up working in automotive after studying textile designs?
I really never intended to, I was a textile student studying in England, which is really creative and super innovative in textile design. I was really trying to avoid the automotive industry because all I saw were black fabrics and black plastic. It didn't give me the idea that I had a chance of actually designing something. It always appeared as a very boring, very black and dull approach. There was nothing innovative or colourful. I was much more interested in doing textiles for home furnishings or thinking 'wouldn't it be great to develop haute couture fabrics which are one-offs?' But I was very open after I finished studying. I didn't know what to do, I wasn't super prepared I was just confidently looking into my future. And my professor from school said, 'Oh I just went to BMW and I had a speech there on design approach and they are looking for a new colour and trim designer, would you like to meet them?' And I thought, 'Yeah, okay, let's give it a try. Munich is also not such an uninteresting city.'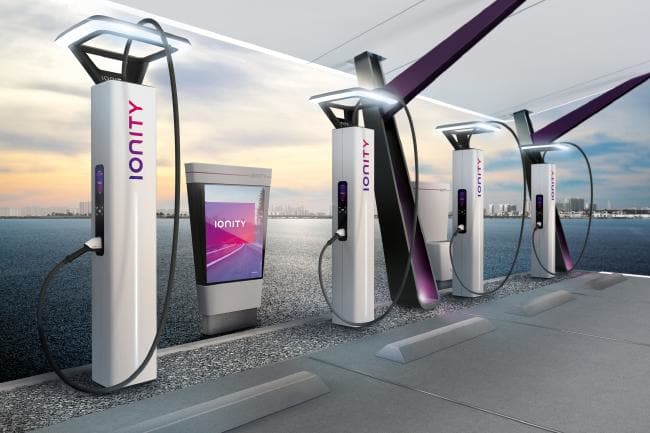 Image: Ionity High Charging Network by Designworks

You got very lucky, BMW was your first job interview.
Yes, I went there totally naïve and fully frank and not really interested in taking the job, and kind of, 'Let's try it, see what they say,' I don't know, maybe if I would have been prepared better I would have been more scared but I wasn't. I wasn't really interested in the automotive industry so I arrived there with a fresh attitude and maybe just more authentic, I think. And my portfolio was just kind of appealing to my boss who then hired me.

As a young designer, what made you really want to work there?
Why did I get to the automotive industry? I very quickly realised that this company was giving me a great chance that I would never have in the textile industry, unless I was working for the best company. BMW is a huge company, and at the time it was already super innovative in terms of colour and trim. My previous boss was a woman who has been in the industry for many, many years and she was really pushing the boundaries. I never heard 'you cannot do this.' It was always very open. There is a huge connection with other expertises and entities and there are a lot of possibilities in working with different suppliers and travelling around the world and just exploring so much more than if you are designing just in one little field. A car opens you to much more - it contains so many different parts, many different materials, so many different technologies. Different models too - the spectrum was just amazingly great and after I left this interview I knew I don't want to work anywhere else.



Image: B/E Aerospace Chameleon Business Class Seat by Designworks

There are a lot of people who love design but might not think of cars as an indicator of innovation, but it is an element of design that we see and use every day. As someone pushing the boundaries right in it, what do you think about that statement?
When you're in it you don't even question this. You feel like you are changing something, you are having an impact. I think we were very confident in looking at what we can do and of course, we have such desirable products, we always felt like we are a kind of puzzle in making this product even more perfect or even more desirable. We look also at other inspirations, at other fields, and we were always translating this into something automotive. We have always designed or developed our own surfaces materials and colours. I have never questioned the kind of sequence of whether we are at the peak of influencing or not. You also have to be sure that it is not too trendy as well, so customers will like it. So when you talk about trends they have to be a bit more lasting. So, there is always a question of 'how do we deal with trends?' Are we watching them first? Are we really sure about them? But I think we had some, we have some really good designers who have this sensibility of really seeing something which has the potential of lasting and maybe becoming something classic.


What are some of the key influences behind designs of the luxury cars we're driving?
Architecture is always a huge inspiration for us [inside and out]. The interior of cars is often translated from furniture design. So the Milano Furniture Fair is one of our biggest inspirations, we go and look at how premium companies deal with the material combinations, refinement, details, sometimes even technology in how they treat certain materials and forms. I think that is something we get highly inspired from.

When it comes to how do we translate things, well, for me, it's a bit easier to talk about MINI because I've been living and working on MINI for 13 years. It also might be a bit easier to translate because MINI is a bit more of this lifestyle brand. That means, it is much more open to very unique trends which don't have to last forever. Which are actually really required when you look at the broad variety of customers we have. They're looking for something new and they are looking to stand out, get their individual car. That's what we have always looked at – how people want their own car that they identify themselves with. So, when it comes to trends and the fabrics and everything, we looked to British sources of textile design and British sources of furniture design. I think that was always a huge inspiration for us as a British brand as we were playing this card.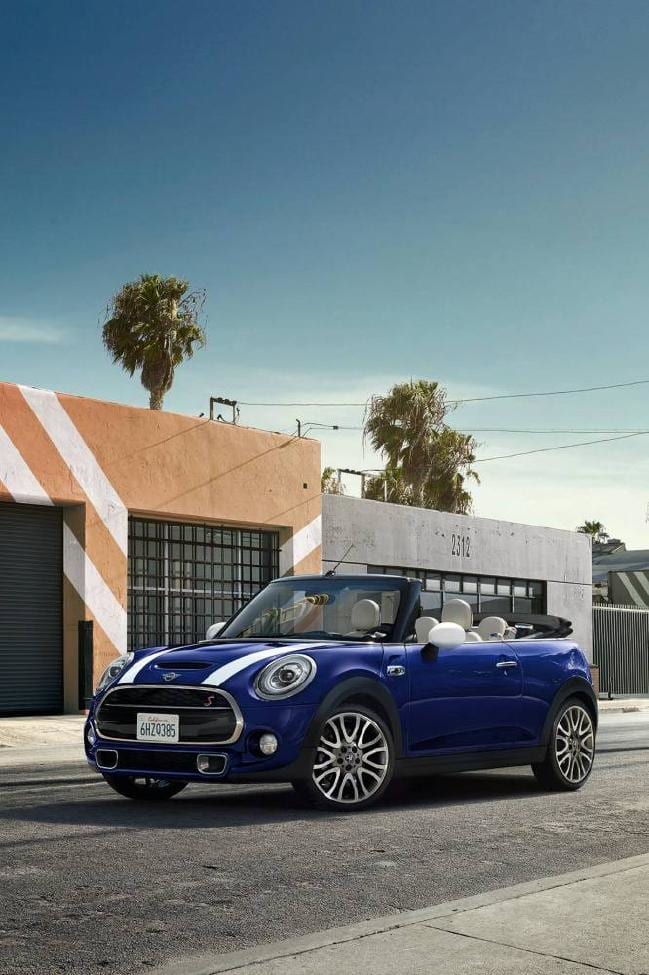 Image credit: Instagram.com/94lukeee

Unless you've owned a MINI, you might not know that the Britishness is there, but it is also very subtle – from the demure Union Jacks that you need to really look for, to the stitching etc. Can you talk me through the styling in the MINI?
The Union Jack is just too easy, too obvious – we didn't want that. But, the way of how we translated this Britishness into the car, because, [the MINI] also used to be a strong trend itself! Especially in Europe for a while that people were really buying into British style. I think that was very heavily translated into material design. There were many little, refined details borrowed from the fashion industry and the accessory industry - little labels, little buttons, the way we do stitching and so on. It is highly influenced by these industries. This comes down to how we then design a seat, of how we then design perforations, stitching, material combinations, and so on. I think we had huge possibilities and varieties in MINI when it came to this. I wouldn't call it more fashionable because we have to be careful when it comes to automotive when we talk about this. And we don't want to be too feminine either, so it also, it has to be gender neutral. But we were always looking into both fields of inspiration when it came to fashion and accessories.

There is always so much talk about what makes a design great - how do you define it?
It's a tricky question and there is not one answer to it. There are people who are super puritanical. You get into their whole, 'everything is styled and everything fits' one kind of message. And I've never been this person. I've always been a collector and I've always really liked different influences and so it's difficult for me to just say design is one thing. But also, if you have to explain your design it's already getting difficult… At the same time, if you get used to something and then like it, it might last longer because it still offers you some aspects to discover later on. I think perhaps it's also not talking about style, but more about the emotion it creates and the relationship it creates with you and what you see.