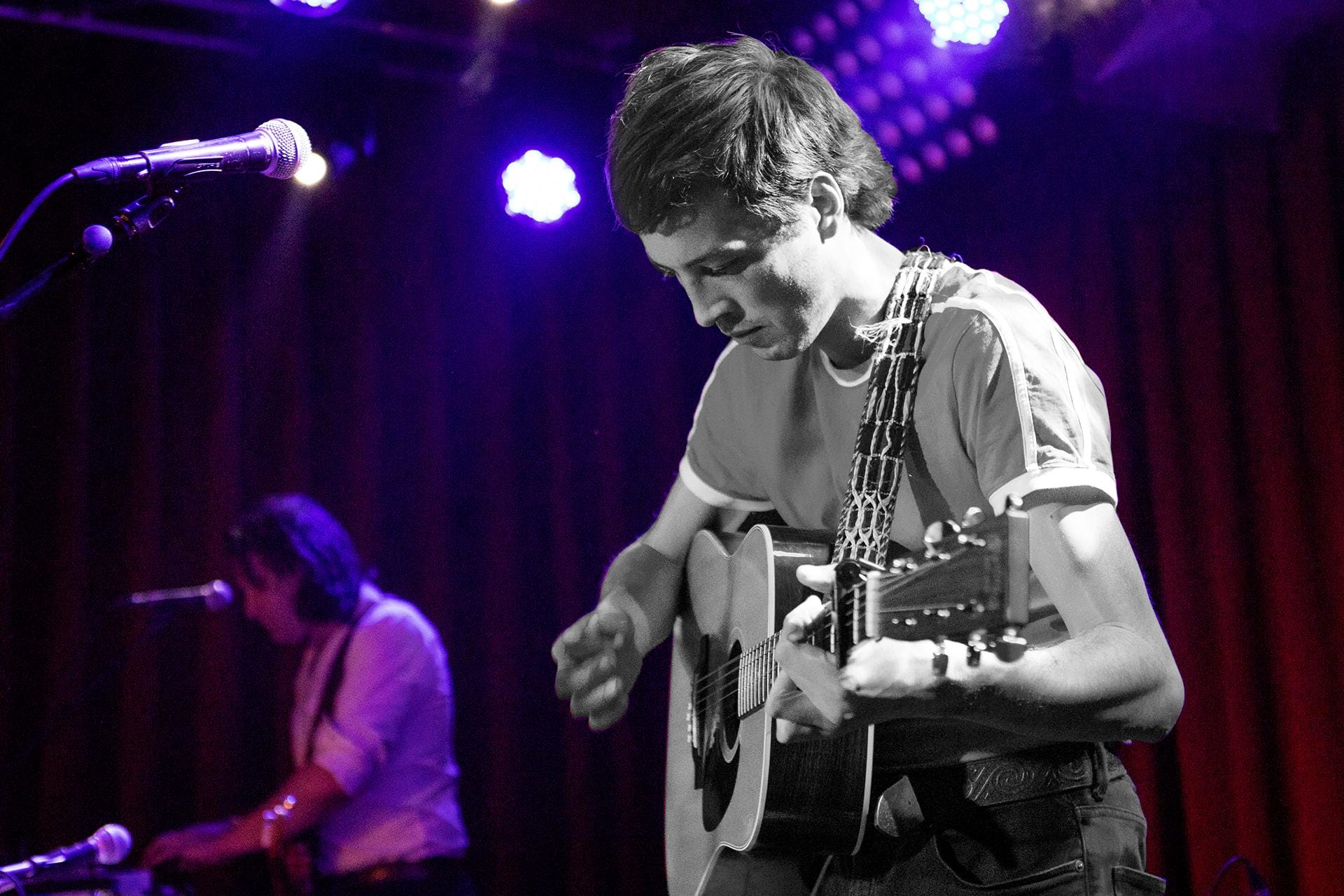 GQ, May 2018 (link)

Arriving on Australian shores this week, the Kiwi musician talks with GQ about his latest album, why he's happy for you to read into things and what he thinks of the yodelling kid.

There have been a lot of column inches dedicated to lovely things written about New Zealand country musician Marlon Williams already. Pleasantries, compliments and superlatives prefacing his name and music. If you haven't yet borne witness, then, I assure you, believe them all.

Indeed, the 27-year-old is a tremendously skilled songwriter, his voice possesses a kind of bone-quivering tone, his particular brand of country boasts originality, depth and understated swagger in spades, and, the cherry-on-top: an enviable natural talent for changing the temperature of a room in four bars or less.
In a nutshell: He's every bit the man you expect to be behind the kind of music he makes.

Following his first major full-length album, Marlon Williams in 2015, the kiwi toured for almost two years non-stop, picking up passionate fans across the globe with each curtain raise. The story goes, that along the road, Williams connected with fellow Kiwi songwriter Aldous Harding, sparking a lovestory that to us on the outside seemed perfect, but sadly, fell apart.

Like any relationship, it soon only existed in old text messages, out-dated smartphones cast away in drawers, camera rolls, memories and sweet, handwritten notes (or at least, that's what one imagines country musicians to send to each other when in rapture)... Except, also, for the first time, Williams felt the need to place it somewhere else: on public record.

"Make Way For Love', released earlier this year, is a breakup record. That's the official party line. It is melancholic and lonely in most parts, and euphoric and loved-up in others (there's even a duet with Harding aptly titled 'Nobody Gets What They Want Anymore'). Overall, there's a sense of longing here, as if Williams talks of seeking something that may not even exist in modern dating for a 27-year-old, Googlable man.

"It started with needing to write a record, first of all," says the Christchurch-born singer. Coming off the back of all that touring, there was a desire to be re-inspired, but what he didn't expect was to be hit so hard by the muse.

"It's completely new," he says of the highly personal subject matter. "For [the songs] to, in this instance, come from such a place and a feeling that felt so urgent and necessary, that's completely new for me." He pauses. "I didn't really have a choice, it all came out really quickly and I felt like I was being blindsided by the songs themselves, really. It was just an effort to keep up and try and you know, just gently and relatively passively shape things as they happened."

The thing is, that despite his brilliant way of articulating exactly what he means in a very honest and un-bashful way, both in song and down the line from an Oslo hotel, Williams is a highly private person. Yet, despite this… his relationship is there, laid out for all to see and he retells and relives the heartbreak almost every night, unloading it on to new ears each time.

"You have to transport it into a place where it becomes therapeutic," he says. "You have to make that switch from internalising all of that stuff to pushing it out, you know? For me, that came in the writing process. I came to a realisation that this is just going to be, this is what I'm doing now. If I don't take this on properly then it's going to end up hurting and not working out in the right way."

Williams said he came to the conclusion that audiences will project their own truths onto the music, which made the whole exercise easier. "I just have to trust that and be open and honest with myself about what these songs mean to me… I sort of approached it with a fanaticism of an alcoholic who's given up booze, you know? And wants to talk about it all the time, talk about how AA has helped them. For me, it becomes this point where you just start feasting on it."

Keep in mind, this isn't just dishing unknown dirt to your mates or revealing what it was like to be with Miss X, Harding is also well-loved and in the public eye – so does that make it harder?

"No." he says. "We met through music and that was always part of dialogue. So, there's a mutual respect that we're going to filter our experiences and life, whatever they are, whether they be together or separately, that's just part of our lot as songwriters to use that stuff."

And no, they've never had a conversation about it. With songs so (publicly) close to the bone, and a few months of touring the new material already under his belt, one has to wonder, does performing each night change the meaning, relinquishing heartbreak onto an audience day after day, does it dilute the feels?

"It does. And It's so freeing. You're kidding yourself if you think about it in any other way," he admits. "The first few times, I was trying to read the audience's eyes and work out how much they were reading into the lyrics and whether some of my fears of letting people in too closely were realised, but I was surprised at the amount which people would just put their own stories onto the lyrics. You can really get away with saying anything."

At this point in our conversation, it comes to my attention that playing live and doing media interviews might just be free therapy. Williams laughs. "Totally! Maybe it's a bit sociopathic but that's just what I have to do, I either do that or I just invent some bullshit story every time I try to talk about this stuff, you know?" He adds, "You've just got to be open to that and that's kind of part of the reason I feel like I wrote the songs for this new album, there's a heavy yardstick of emotional growth and come, sort of a year down the track, I can look back at the songs and break out how I've changed in relation to them. That's the therapy of songwriting, is that you are afforded that opportunity to do that."

With Williams arriving on our shores this week for a string of therapy dates, one VERY important question remains: does he intend to take on 'Lil Hank Williams, the Walmart yodelling kid? He laughs. "I've been tagged in a few posts with him and fans were saying, "Sounds like you!" He's really fucking good. He's way better at yodelling, the forward placement of his voice, that's…I, I can't touch that."

Because, if we were to see anyone do it, be invited on a talk show or the like, it would be him, no? Should we start the campaign? "Fuck, I'd love that," he laughs. "You can start it." Heard it here first… Marlon Williams' Australian tour kicks off this week.

He's touring May 12 and June 22, Melbourne; May 14, Adelaide; May 15, Perth; May 16, Brisbane and May 17, Sydney. frontiertouring.com.